This is a first for me.  I was unable to fit all my images into one post and as I didn't want to leave out a single part of the day, Tommy & Roxanne's wedding photos have been divided into two blog posts.
Part one of this amazing wedding day began in Richmond, Prince Edward Island where the Fitzgerald Home was bustling with activity.  This was Tommy & Roxanne's wedding day and the home was filled to the brim with lots of food, laughter, pretty ladies, gorgeous flowers and elegant dresses.  Handsome men in grey suits nervously waited for the day to begin all the while eying the vintage cars that lined the lawn.  Little Lincoln woke with a stomach flu on this day; the day his mommy and daddy were to be married, but with the determination of someone much older than him, managed to get dressed and join in the fun.
Following a sneak peek in the back yard, we visited the family business where we took the most unique wedding photos I have ever taken; in the yard of Fitzgerald's Auto Salvage.  It was awesome!
Part two of this amazing day continues in the next blog post.)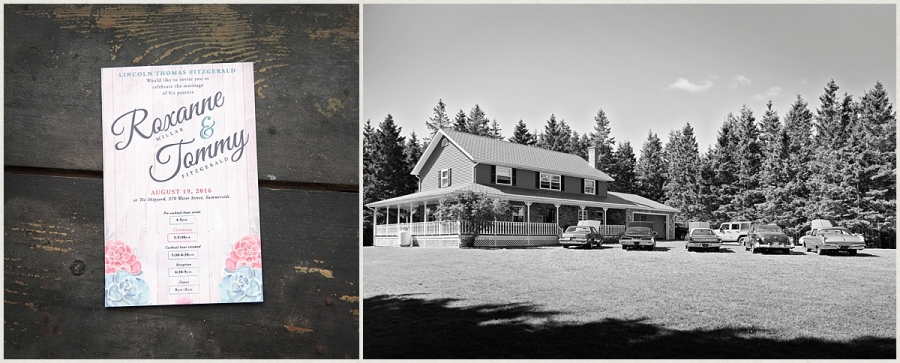 Vendor List:
Floral- Prestige Floral; Micheal Jackson
Venue – Shipyard Weddings and Events, Darcia and Jordon Burnett
Decor – Unique Decor
Make up- Jacqueline Denise and Larissa Faith
Hair – Anna Perry – Anna's do or dye hairstyling and Felicia MacIntyre – Red is the new black hairstyling
Video – Dane Cutcliffe -Ashland Weddings
Cake – Elaine Rogers
Groom/Groomsmen suits – Moores
Bride Gown and bridesmaids – Caseley's Bridal Boutique
Photography – Wendy Malley Photography Inc. 🙂